Chamonix is one the best possible locations for team building. The adventure capital of Europe, Chamonix is easy to get to and there are team building options for every organisation.
Bring your team to Chamonix if you want to inspire and invigorate them. Let Ski Weekend do all the hard work putting your team building trip together.
Team Building Activities in Chamonix
Backcountry Skiing
Heli-Hike & Ski Mont Blanc
Panoramic flight over Mont Blanc
Hot-Air Ballooning
Paragliding
Snowshoing
Husky Dog Sledding
Ice Climbing
Biathlon
Ski Joering
Let's look at these team building activities in Chamonix in more detail:
Backcountry Skiing
Ski Weekend has over 30 years' experience of organising ski trips to Chamonix.
While we can arrange lift passes and you can simply ski recreationally around the large pisted area, we can arrange guided, backcountry skiing for skiers or snowboarders of intermediate level and above.
Chamonix is known for its off-piste and our guides know the area intimately. They can take you to those secret stashes of powder that you would never find on your own.
A backcountry skiing team-building activity can include ski touring (or split boarding) to find the best snow; training on avalanche safety using transceivers; and even the legendary Vallée Blanche – the longest off-piste run in Europe and an experience that your team will never forget.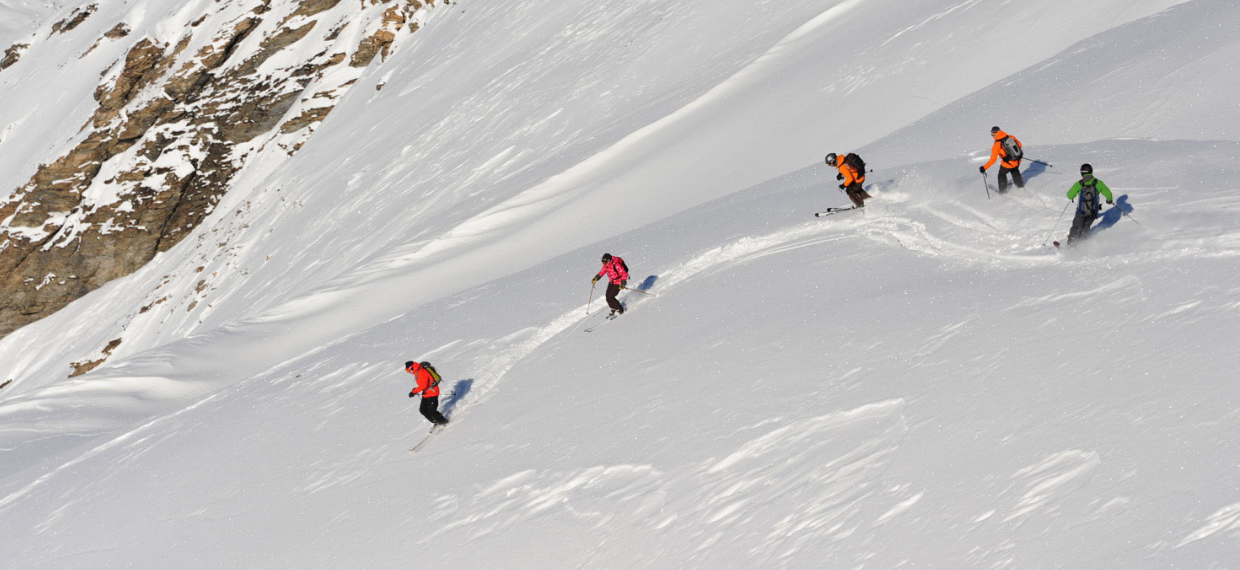 Heli-Hike to Mont Blanc
If you're really looking to give your team the experience of a lifetime then why not emulate Tom Robbins' adventure with Ski Weekend?
Tom took a 'heli-hike' to the top of Mont Blanc and then skied down!
This is strictly for advanced skiers, but it's something your team will remember for the rest of their lives.
Take a panoramic flight over Mont Blanc
Seeing Mont Blanc from the air doesn't have to be restricted to the best skiers. Inspire your team by taking a panoramic flight over Europe's highest mountain.
A 20-minute helicopter flight doesn't sound long, but you'll be able to see this magnificent Massif from a completely different angle, passing so close you'll feel you can reach out and touch the mountains.
Longer flights of up to 40 minutes are available by plane, although the nearest departure airport is Chambéry, whereas helicopter departures are from Chamonix itself.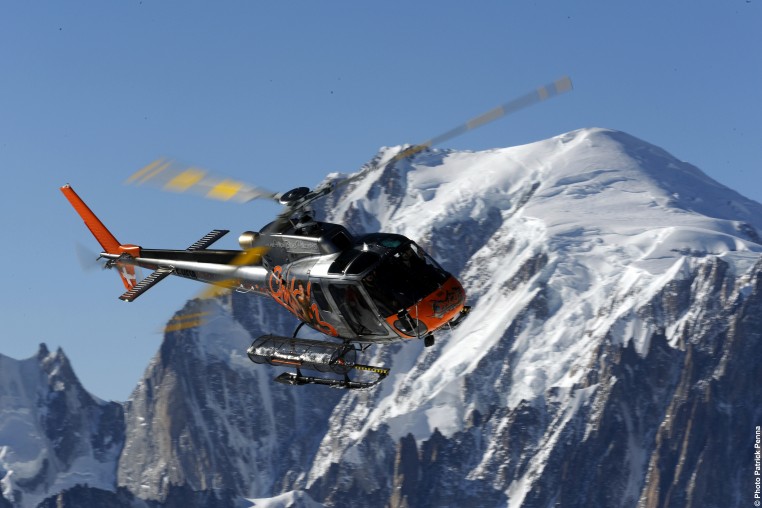 Hot-Air Ballooning
Known as a 'montgolfier' in French after the famous brothers that invented hot air ballooning, this is much slower, more peaceful way to discover the Mont Blanc Massif.
Watch the sunrise with Europe's highest mountain as the background as you soak up the tranquillity of the Alps, flying over Megève and also admiring the impressive Aravis range.
Your flight will start early, a short drive from Chamonix, and give you 60-75 minutes in the air, depending on conditions.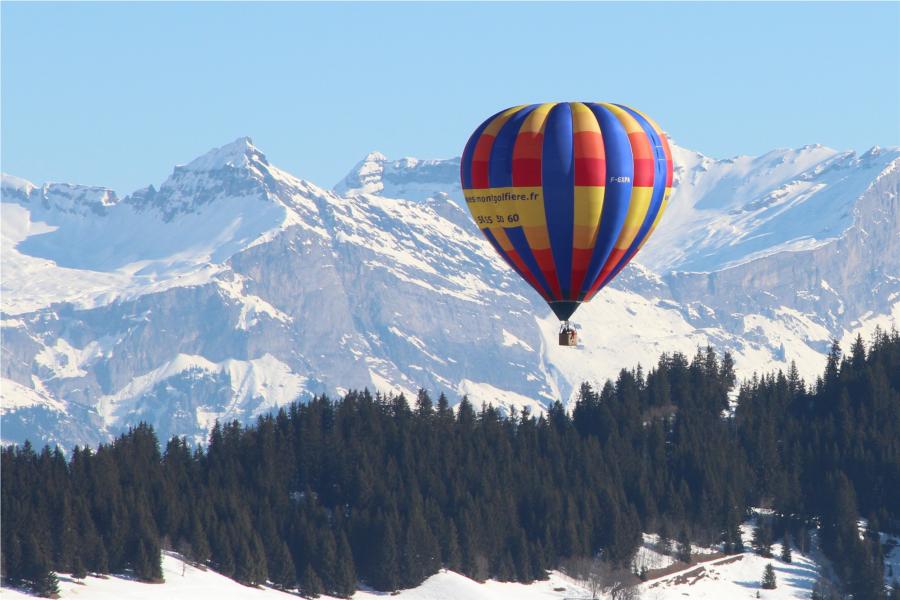 Paragliding
The more adventurous might want to take to the air themselves – in tandem with a qualified pilot, of course!
Paragliding is popular in Chamonix all-year round and a flight from Flégère or Brevent will deliver a thrill you'll never forget. By the time you land in town you'll be buzzing with adrenaline.
Flights are normally 20-30 minutes, but if the thermal conditions are right, you could also consider a longer cross-country flight taking up to an hour of airtime.
Snowshoeing
Not every activity has to be adrenaline-fueled. Snowshoeing is a great way to explore the Chamonix valley and get away from the crowds.
It's not technical – anyone who can walk, can snowshoe!
You simply strap your shoes onto 'raquettes' and can either follow the 14 marked itineraries in the valley, or we can hire you a guide to take literally off the beaten track to discover more about the flora and fauna.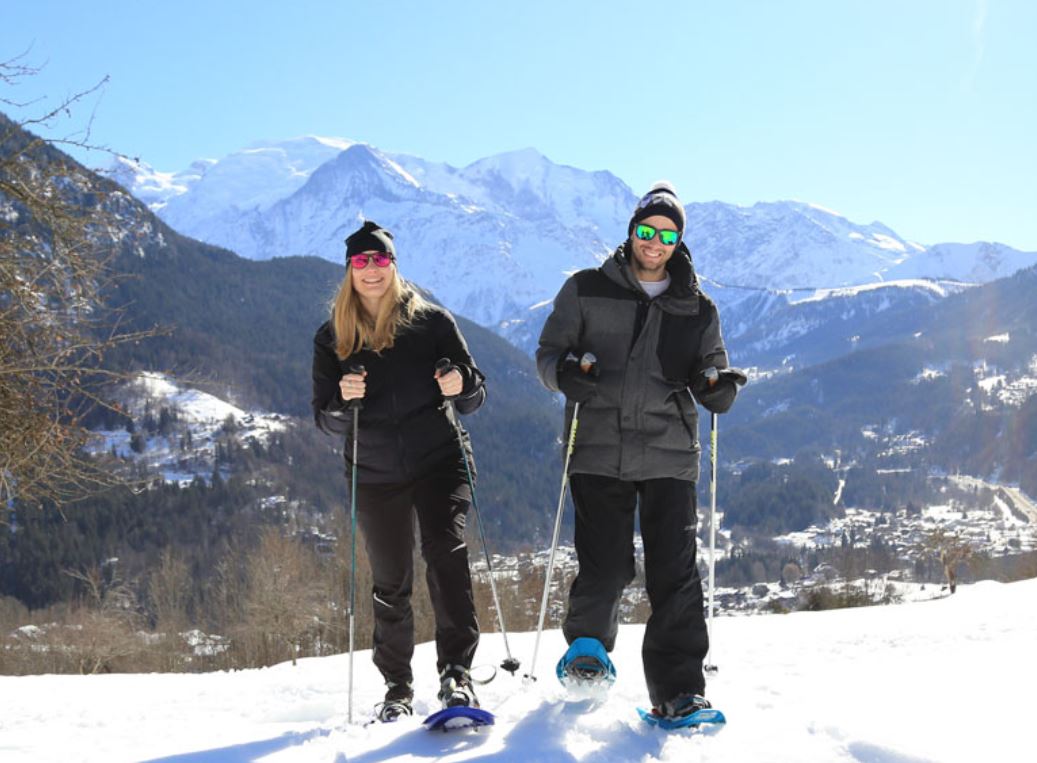 Husky dog sledding
Learn how to 'manage' a slightly different team from usual as you discover how to steer and control a team of beautiful Alaskan Huskies as they tow you through the snowy forest.
This activity can work for up to three drivers at a time and takes around an hour, including a 15-minute briefing.
Or if you'd prefer, you can simply be a passenger as you're pulled across the snow by our four-legged friends.
Ice Climbing
This might sound like a terrifying activity, but there are plenty of options for first-timers that will allow you and your team to learn the skills required to scale frozen waterfalls.
It's a unique challenge that will test your team's composure and give you an experience you'll always remember.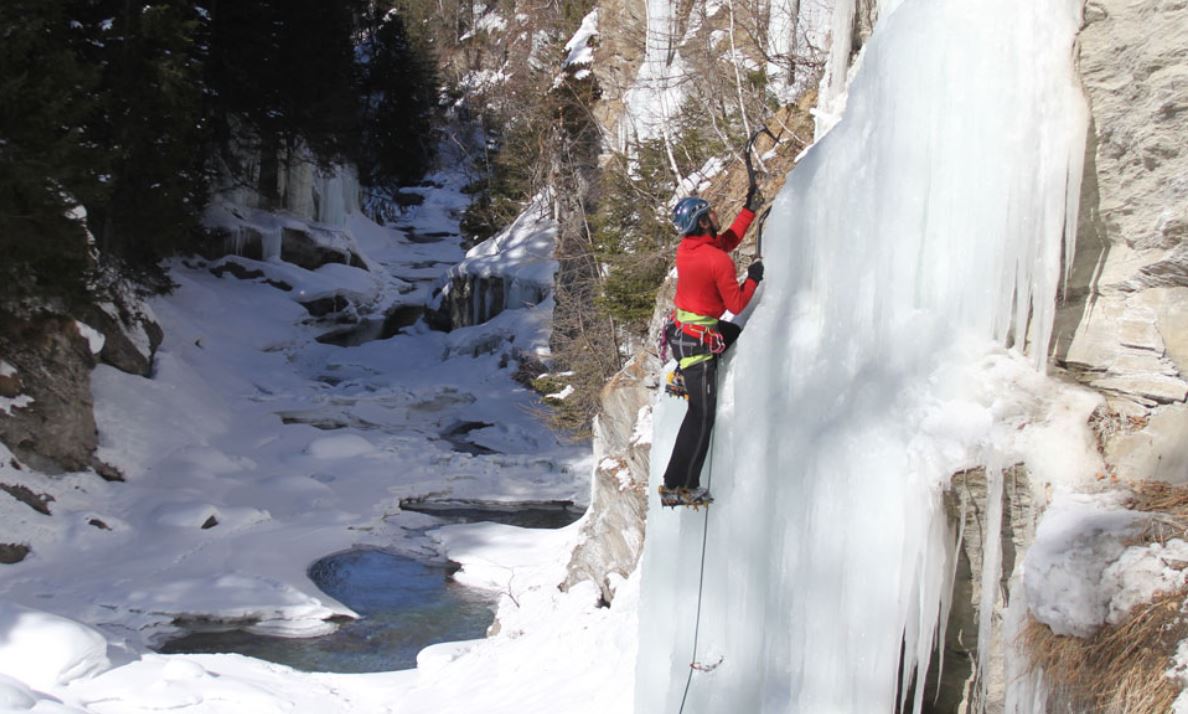 Biathlon
Regular visitors to our site will know that we are big fans of biathlon as a team building activity for corporate groups.
This unique combination of fitness and concentration grows in popularity every year. Learn new skills and then cap off your experience with a graded event to bring out everyone's competitive streak.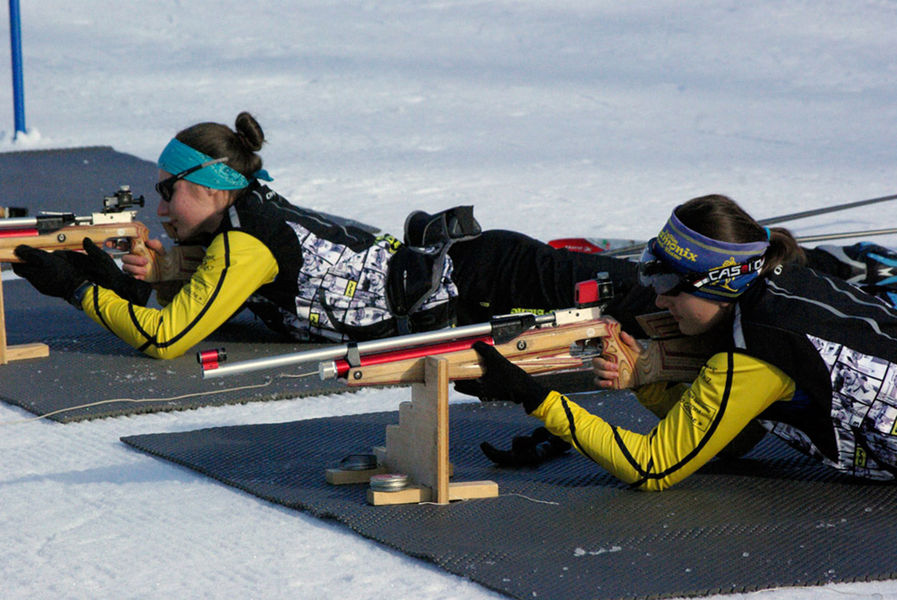 Ski Joering
Few people have heard of 'ski joering'. It comes from the Norwegian word 'Skikjøring', which translates as 'ski driving'.
It's similar to Husky sledding, except that you're being pulled by a horse, while you wear your skis.
It's a traditional Alpine activity and can be as gentle as you like – or if you're feeling confident, get into a gallop.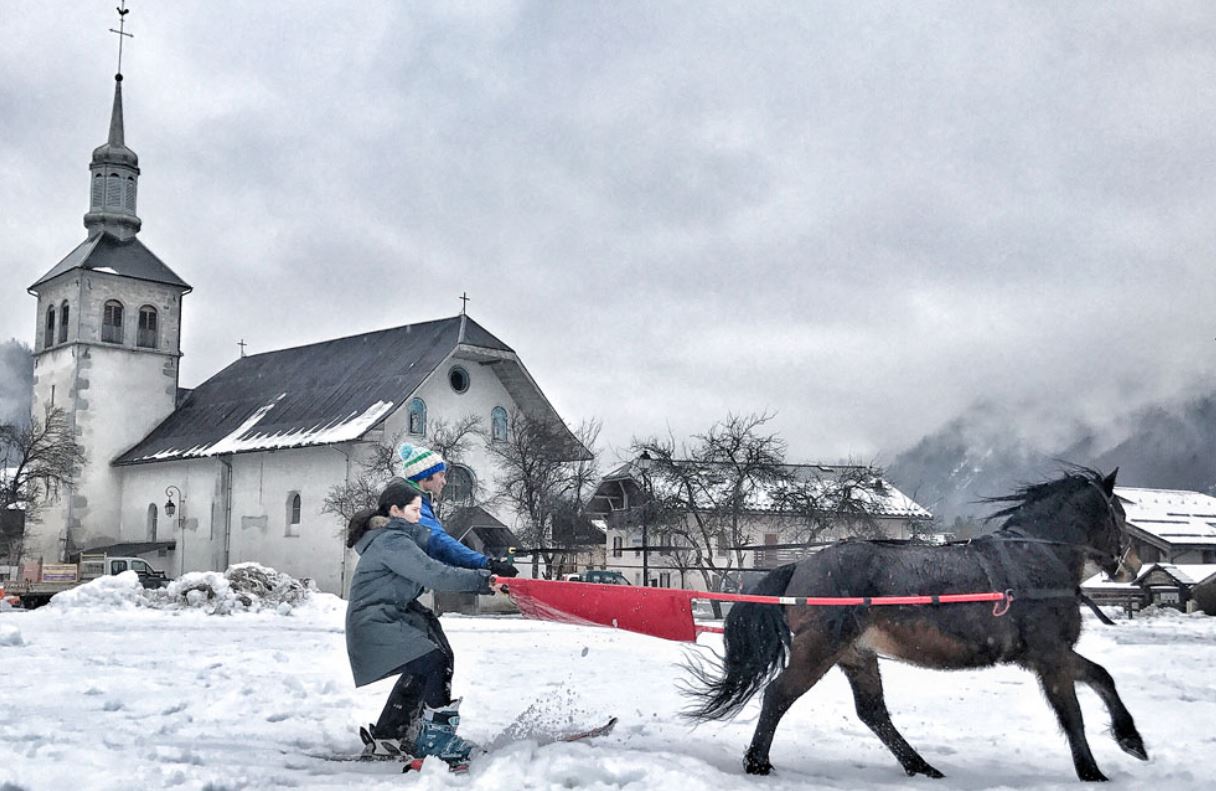 ---
If you'd like to organise your own team building trip, then please contact the Ski Weekend team on 01392 878 353.
We are experts in corporate events, specialising in Chamonix since 1987. Contact us to discuss your requirements and to create the perfect team building trip for you.
Chamonix also a great destination for team building in summer. Watch out for our blog post about this coming soon.