Many of our clients ask us about heliskiing in Chamonix. Unfortunately, it is illegal to heliski in in Chamonix, as it has been banned since 1985.
However, there are a few ways to get around the ban and still heliski 'from' Chamonix.


Heliskiing is illegal in France
Heliskiing has been illegal in France for almost 40 years since the 'Mountain Law' was passed in January 1995.
The small print (Article 76, Law 85) says that it is illegal to drop any passengers in 'les zones de montagne' for leisure purposes, except at certain designated locations. 
Those designated locations tend to be specific aerodromes at low altitudes. There are none of these in the Chamonix valley.
This law, together with Article L 363-1 of the Environmental Code, means that heliskiing in Chamonix is not possible.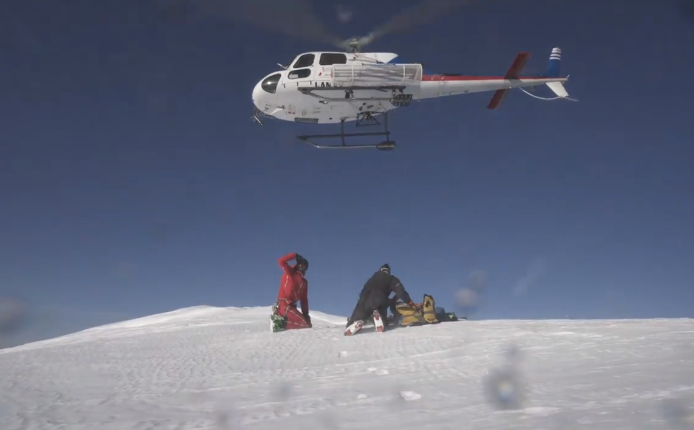 Chamonix helidrop led to the ban
The irony is that this law was only passed after the French president in 1979 – Valery Giscard d'Estaing – completed a ski descent from Mont Blanc in Chamonix, having been dropped off by helicopter.
On his arrival back in the valley he was met with protests from locals, who objected to the noise pollution the helicopters created, as well as concerns about the potential environmental damage from an increasing number of helisking tourists.
Loopholes in the ban
There are actually a few ways to 'get around' the ban. You can still go heliskiing 'in Chamonix' by being dropped in Italy or Switzerland, instead of France.
A descent from Mont Blanc is even possible by being dropped at 4000m on the Italian side of the mountain, after starting from Courmayeur in Italy. You can then ski tour or boot pack the remaining 800 vertical metres to the summit, before skiing down.
The advantages of a 'heli-hike' trip like this is that you don't have to spend too much time at altitude but can still benefit from a spectacular descent of 2500 to 3500 vertical metres, depending on your route and conditions.
It probably doesn't need to be clarified, but the route down involves negotiating hidden crevasses and ice-cliffs and should not be accompanied without an experienced mountain guide.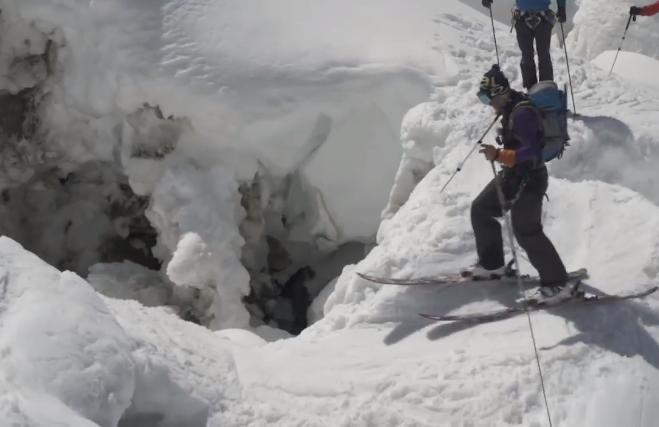 Heli-hiking Mont Blanc
In 2018, we arranged for Financial Times journalist Tom Robbins to heli-hike to the top of Mont Blanc and ski down. Tom found it a tough, but rewarding day:
"Your legs are on fire. You're gasping for air, and you know there's still a long way to go! I was exhausted, but happy – it was a brilliant experience!"

 

Two-day Heli-Hike Experience
Ski Weekend can organise heli-hike experience like this for you as we did for Tom.
Typically, we will plan in a full preparation day to review your equipment and fitness levels and to practice ski touring and/or boot packing techniques, especially the use of crampons.
Assuming the weather plays its part, day two will start with a heli-drop around 3900-4000m above sea level, starting from Courmayeur. We'll then ski tour to the Refuge Vallot at 4350m, from where we will boot-pack with crampons to the summit.
The run down will be predominantly on the North face and depending on snow conditions, we then descent either to the Plan d'Aiguille (the mid-station of the Aiguille du Midi cable car) at 2317m or all the way to the Mont Blanc tunnel at 1274m.
Whichever option we take, it will almost certainly be the longest single run you'll ever ski in your life!
Italian alternatives
You don't have to ski down Mont Blanc to go heliskiing while on a trip to Chamonix.
A simple journey through the Mont Blanc tunnel brings you to Courmayeur, which has heli-drops offering descents of up to 2500m and great views of Mt Blanc while you're skiing them.
Another advantage of this simpler choice is that you can do more than one descent in a single day, with up to three flights possible.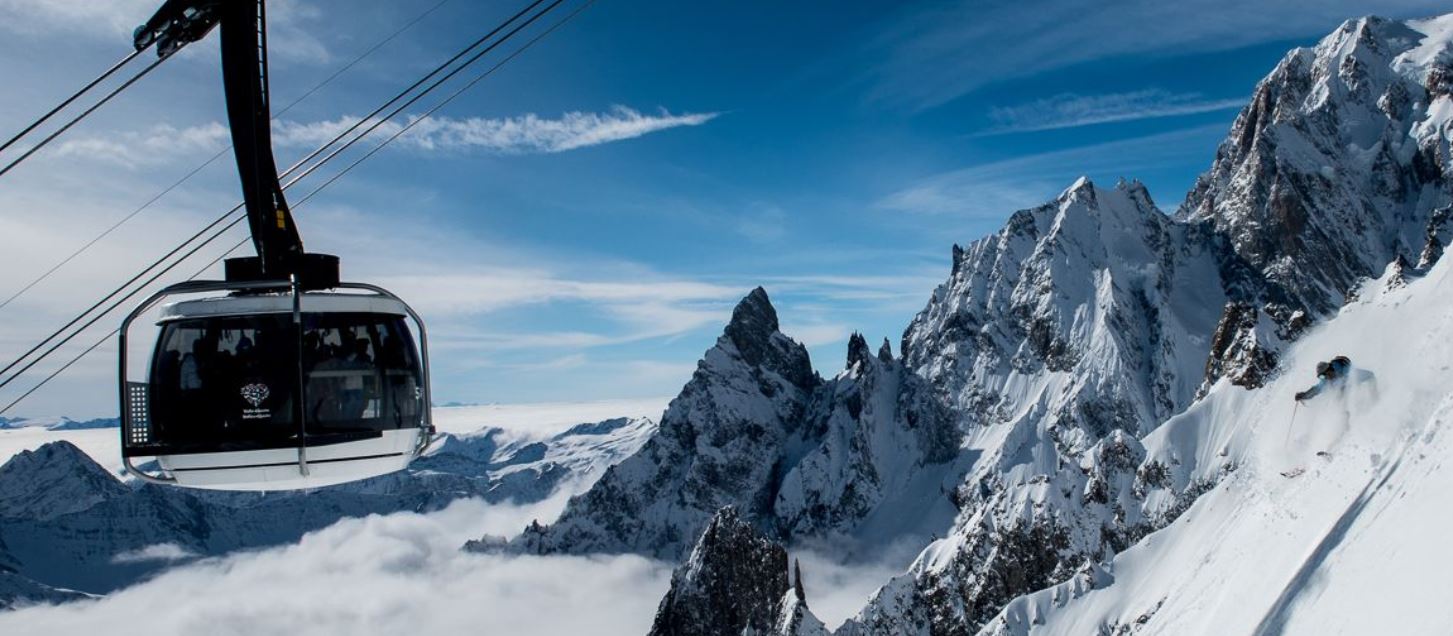 Swiss heliskiing options
It only takes about 30 minutes from Chamonix to cross the French/Swiss border in Trient and arrive in Finhaut. From there, there are several options for descents of 2000m or more from the 3267m peak at Fenêtre de Saleinaz.
Alternatively, the Petit Combin (3672m) above Verbier is another popular option, that's easier reachable from Chamonix.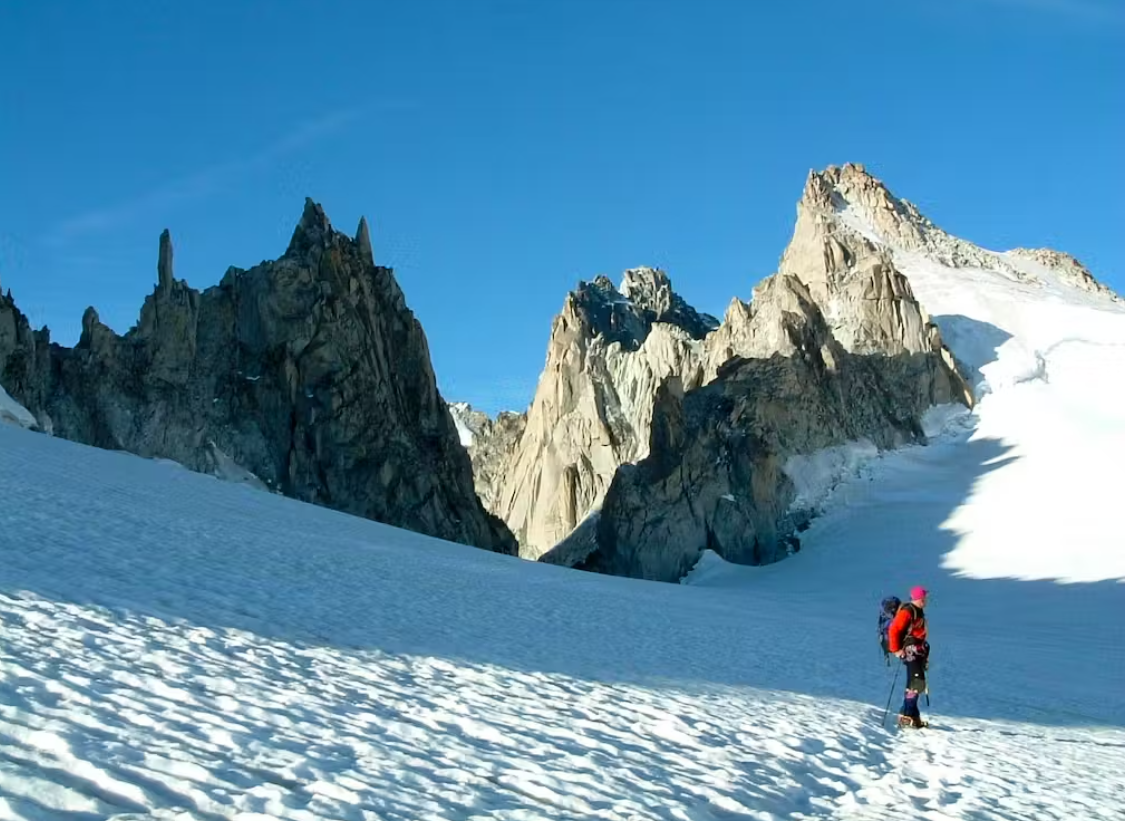 Contact Ski Weekend
To discuss how to put together your heliski experience out of Chamonix, please contact the Ski Weekend team via our website or by calling 01392 878 353.